The Abraham Accords & Regional Normalization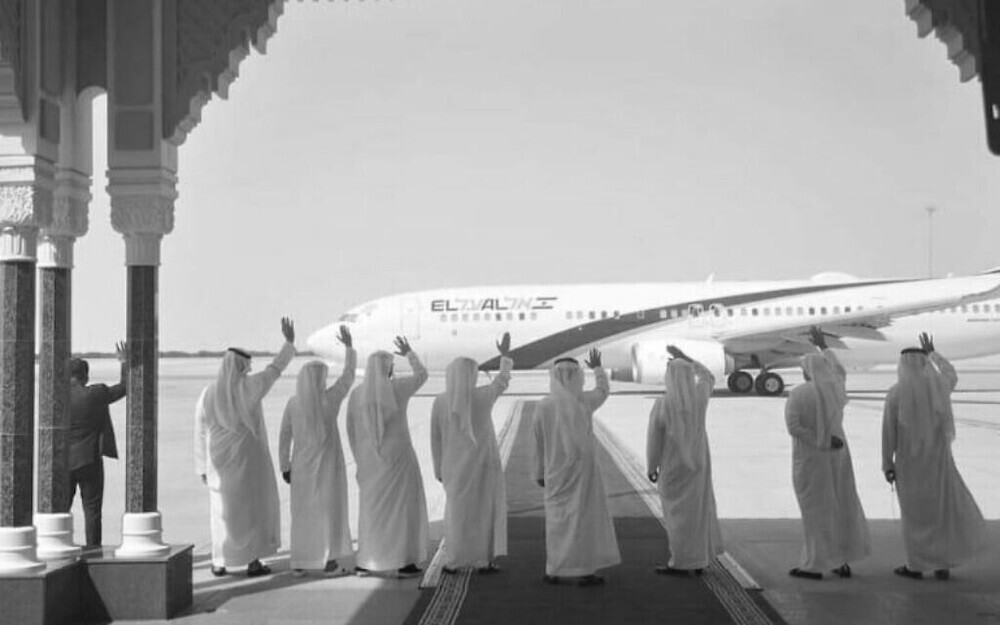 United Arab Emirates (UAE)

On August 13th, 2020 following the suspension of the proposed annexation of parts of the West Bank, the UAE, Israel, and the U.S. announced the Abraham Accords Peace Agreement: Treaty of Peace, Diplomatic Relations and Full Normalization Between the UAE and the State of Israel. Though Israel was never at war with the UAE, this marked the first normalization accord with an Arab state since Israel's peace treaty with Jordan in 1994. It also marked a departure from the formal Arab Peace Initiative of 2002 which promised normalization with all 22 Arab states once the conflict was resolved with the Palestinians.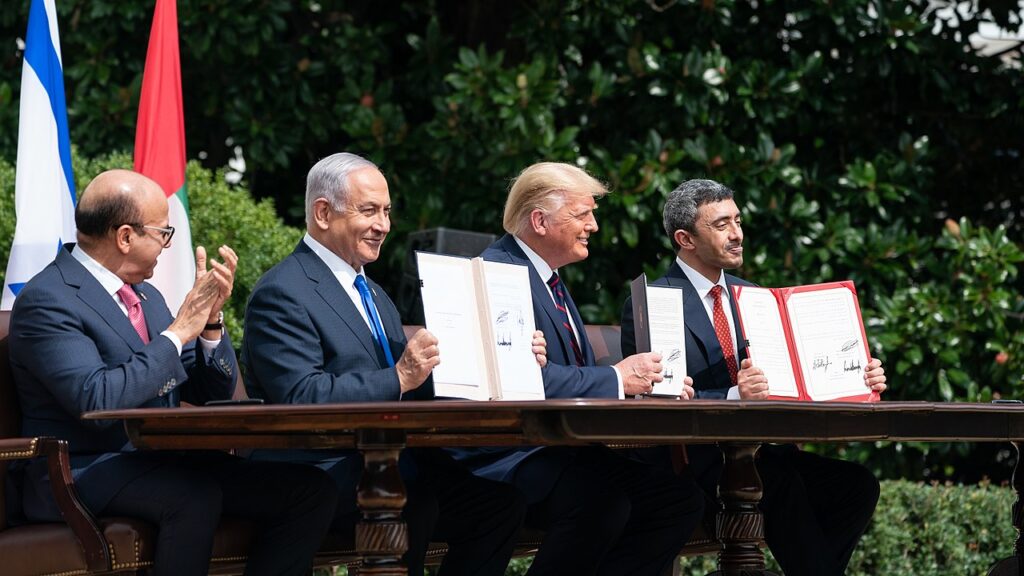 Israel heralded the agreement as a new paradigm of 'peace for peace' rather than land for peace. The UAE, alongside the suspension of annexation, was promised by the Trump administration F-35 aircrafts as well as other advanced weapons technology. The agreement was formally signed at the White House on the 15th of September.
Since taking office, President Joe Biden has expressed interest to build on the Abraham Accords. U.S. Secretary of State Antony Blinken hosted talks in Washington with his Israeli and Emirati counterparts in October 2021. The UAE has also appointed an Ambassador to Israel. More recently, Prime Minister Naftali Bennett become the first Israeli leader to ever visit the UAE where he met with Sheikh Mohmmad Bin Zayed, the country's de-facto leader.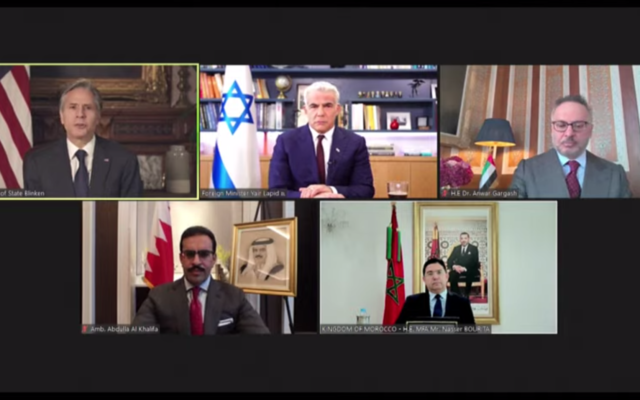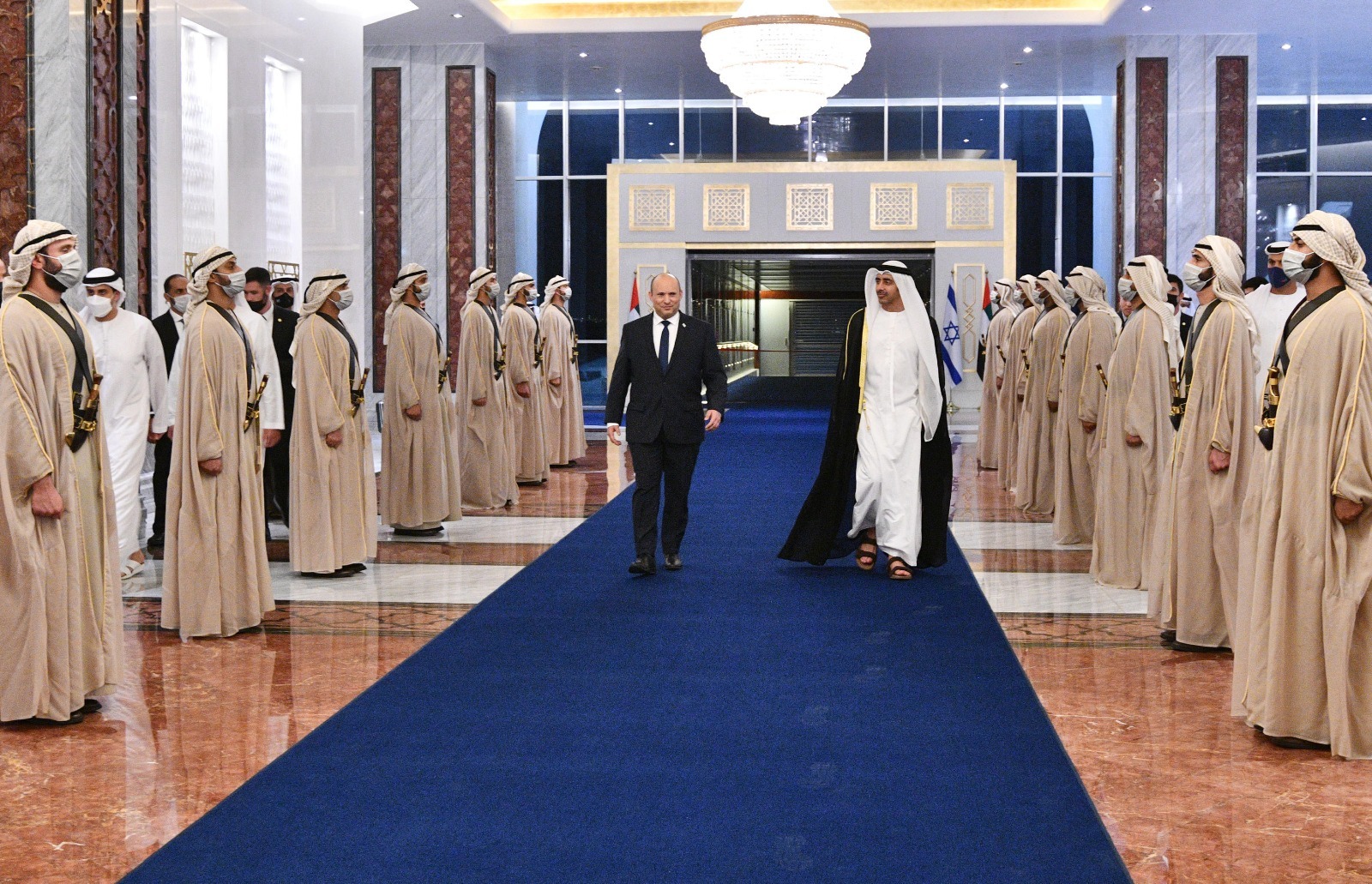 Prime Minister Naftali Bennett walks with UAE Foreign Minister Abdullah bin Zayed in Abu Dhabi. (Haim Zach/GPO/December 12, 2021)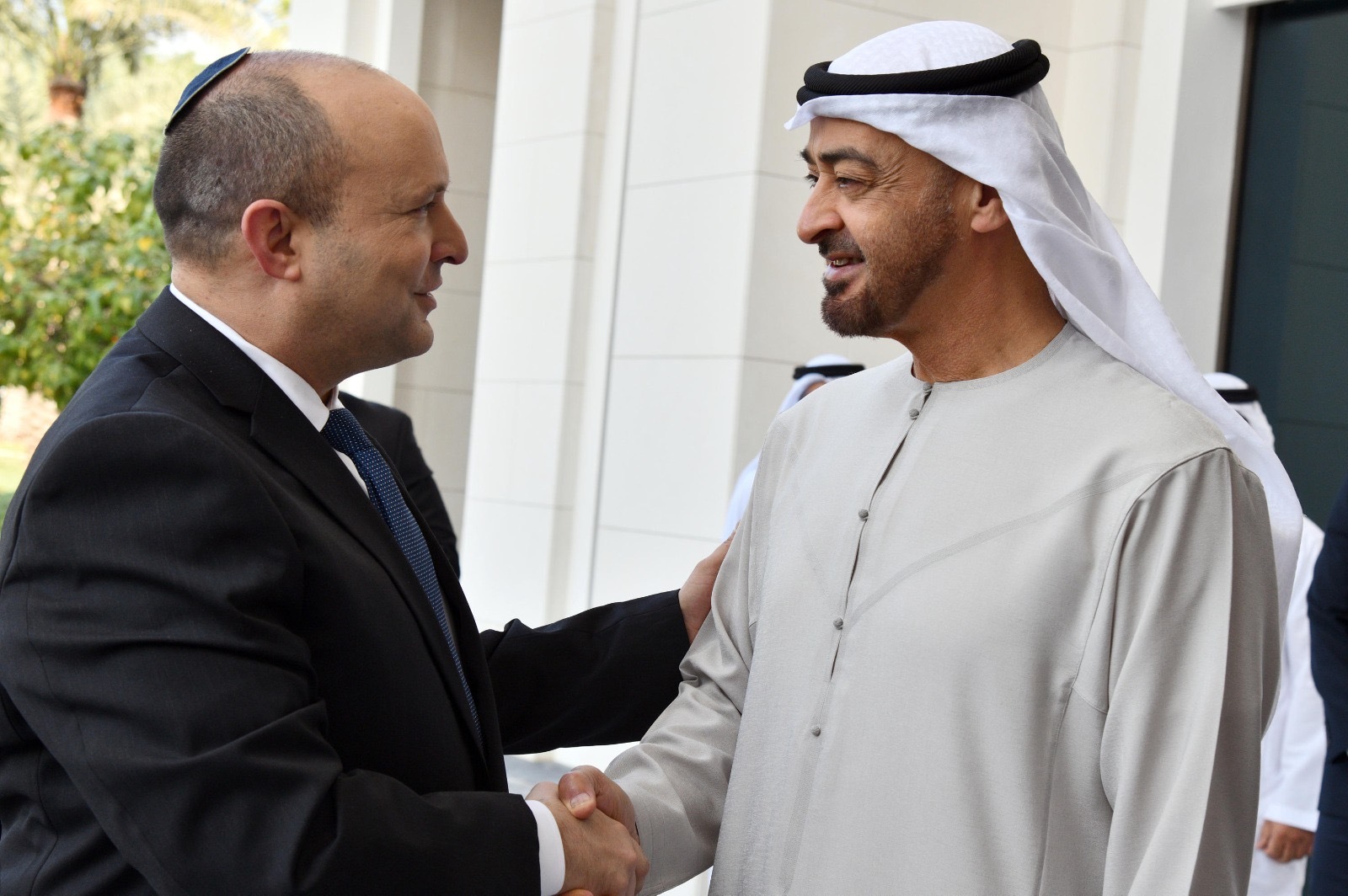 Prime Minister Naftali Bennett meets with UAE Crown Prince Sheikh Mohammed bin Zayed Al Nahyan in Abu Dhabi. (Haim Zach/GPO/December 13, 2021)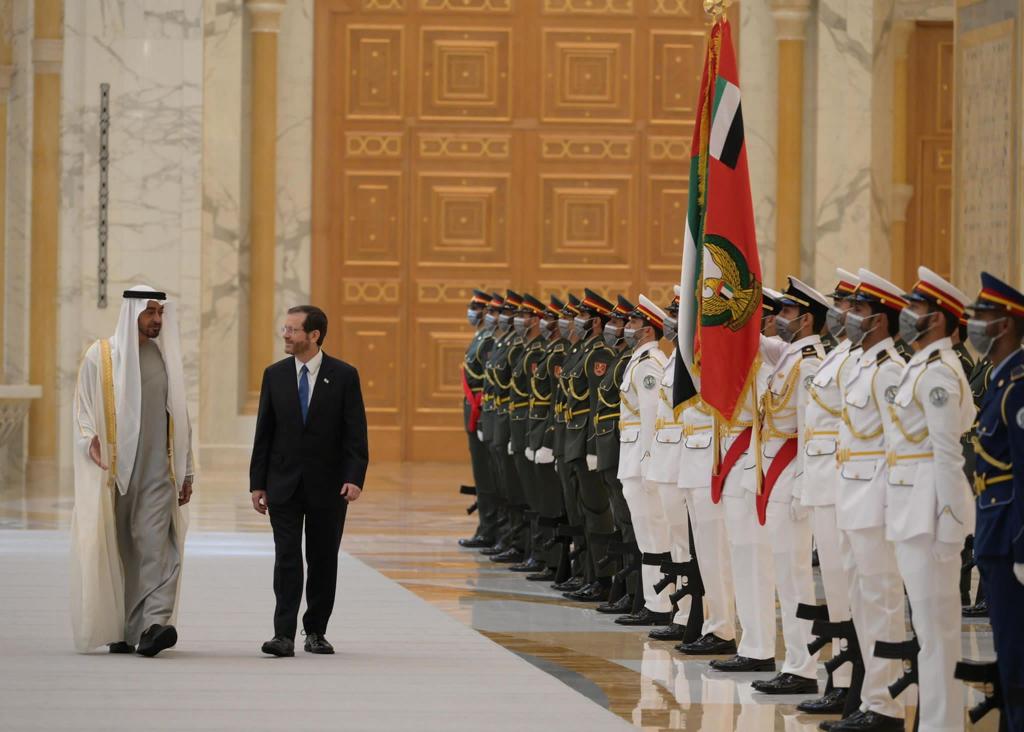 President Isaac Herzog inspects an honor guard with Crown Prince Sheikh Mohammed bin Zayed Al Nahyan. (Amos Ben Gershom/GPO/January 30, 2022)
The Middle East is undergoing an unprecedented shift in regional alliances. On March 21, 2022, Prime Minister Naftali Bennett flew to the Red Sea town of Sharm el-Sheikh, Egypt, for the first-ever trilateral summit with Egyptian President Abdel-Fattah el-Sissi and UAE Crown Prince Sheikh Mohammed bin Zayed Al Nahyan. The summit focused on joint security and economic interests and was held on the heels of a new Israeli-Egyptian security agreement that will allow for a larger number of direct flights between Israel and Egypt. This marked the latest development following the Abraham Accords and an remarkable effort by Israel and its Arab neighbors since the signing of the Accords to solidify an alliance that can cooperate on issues of security, tourism, peace, and stability in the region.
Bahrain
Bahrain was the first Gulf state to commend the UAE on the Abraham accords and on September 11th 2020, President Trump announced that Bahrain would also be joining the Abraham Accords. On the 15th of September Bahrain and Israel signed the Abraham Accords: Declaration of Peace, Cooperation, and Constructive Diplomatic and Friendly Relations. Israeli Prime Minister Naftali Bennett further cemented the established relations in meeting with King Hamad Bin Isa al-Khalifa in Bahrain. The countries agreed on a 10-year plan for expanding ties in numerous fields dubbed "The Joint Warm Peace Strategy".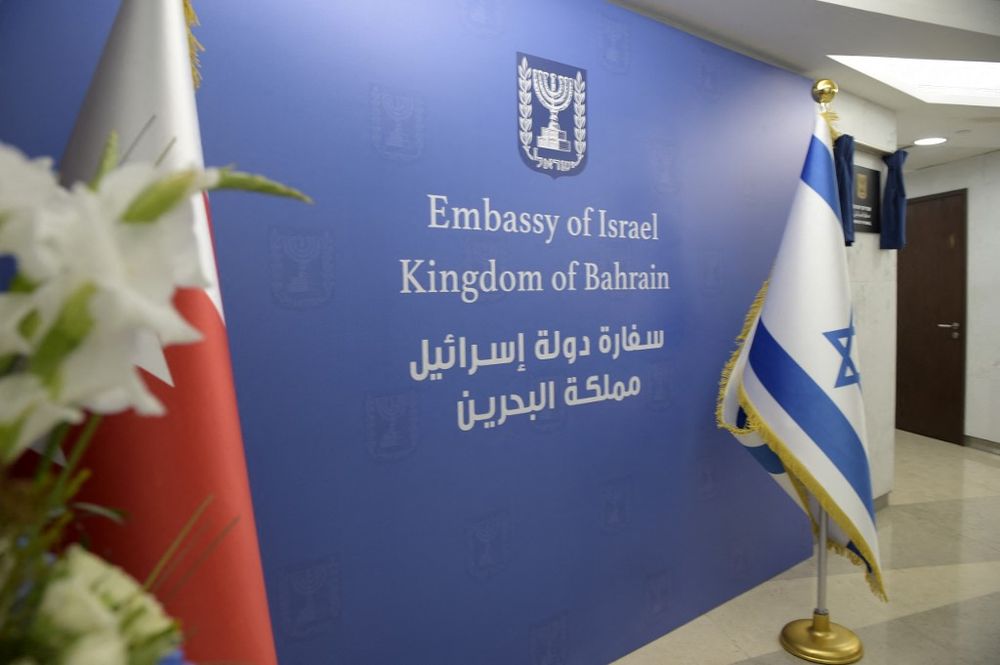 A picture shows Israel's national flag inside the newly opened embassy in Manama, Bahrain. (Mazen Mahdi/AFP/September 30, 2021)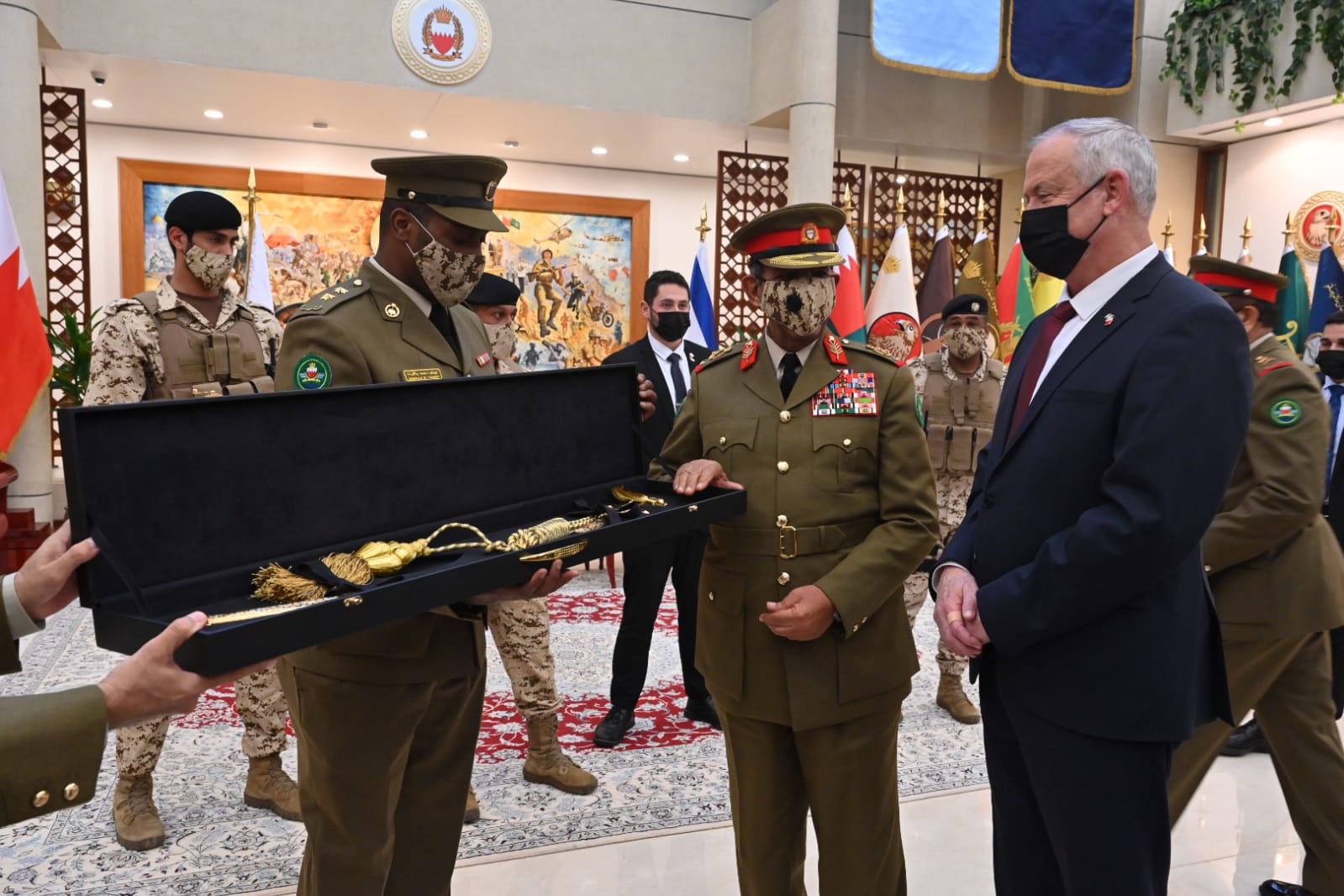 Bahraini military officers present Defense Minister Benny Gantz with a ceremonial sword after the signing of a memorandum of understanding at the Bahraini defense headquarters. (Ariel Hermoni/The Israel Defense Ministry/February 3, 2022)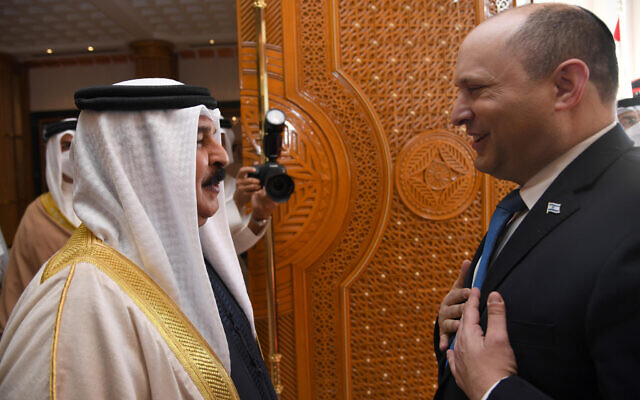 Bahraini King Hamad bin Isa al-Khalifa hosts Prime Minister Naftali Bennett at his palace in Manama. (Haim Zach/GPO/February 15, 2022)
Morocco
Unlike other countries, Morocco had liaison offices in Israel up until the 2nd Intifada. Morocco holds a special place for many Mizrachi Jews in Israel who track their heritage back to the Kingdom. On December 10th 2020 the White House announced that Morocco had agreed to begin normalizing relations in return for U.S. recognition of the Western Sahara as Moroccan territory. Despite bipartisan opposition to the recognition of the Western Sahara, the Trump administration agreed and on December 22nd 2020 a joint declaration was signed pledging to quickly begin direct flights, promote economic cooperation, reopen liaison offices and move toward "full diplomatic, peaceful and friendly relations." Following the signing Morocco announced it would be teaching Jewish history and culture in its schools.
On August 11, 2021, Morocco's Foreign Minister Nasser Bourita hosted his Israeli counterpart, Yair Lapid, in Rabat to further cement the Abraham Accords and promote stronger cultural, economic and security relations between the two countries. In November, 2021, Israeli Defense Minister Benny Gantz signed a memorandum of understanding with his Moroccan counterpart, the first such agreement between Israel and an Arab state. The agreement formalized the defense ties and allowed for smoother cooperation between their defense establishments. A delegation of senior Moroccan academics visited Bar-Ilan University to participate in a conference, titled "Jewish Culture and Law in Morocco". The event conference was co-hosted by Israeli and Moroccan research centers – the Aharon and Rachel Dahan Center for Culture, Society and Education in the Sephardic Heritage at Bar-Ilan University, and the Center for Studies and Research on Hebraic Law in Essouiara, Morocco.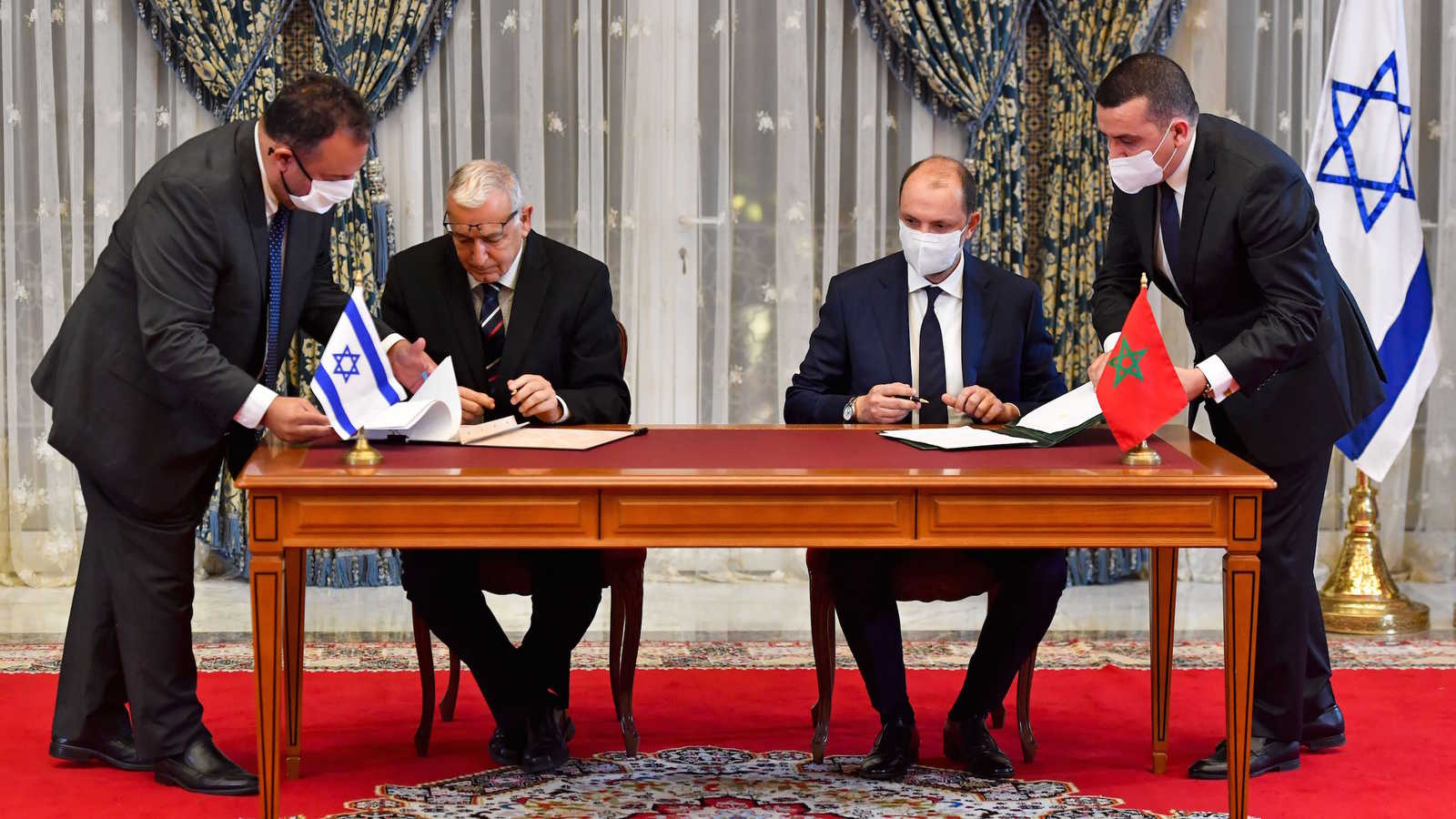 Israel and Morocco signing ceremony (Fadel Senna/AFP/Getty Images, 2020)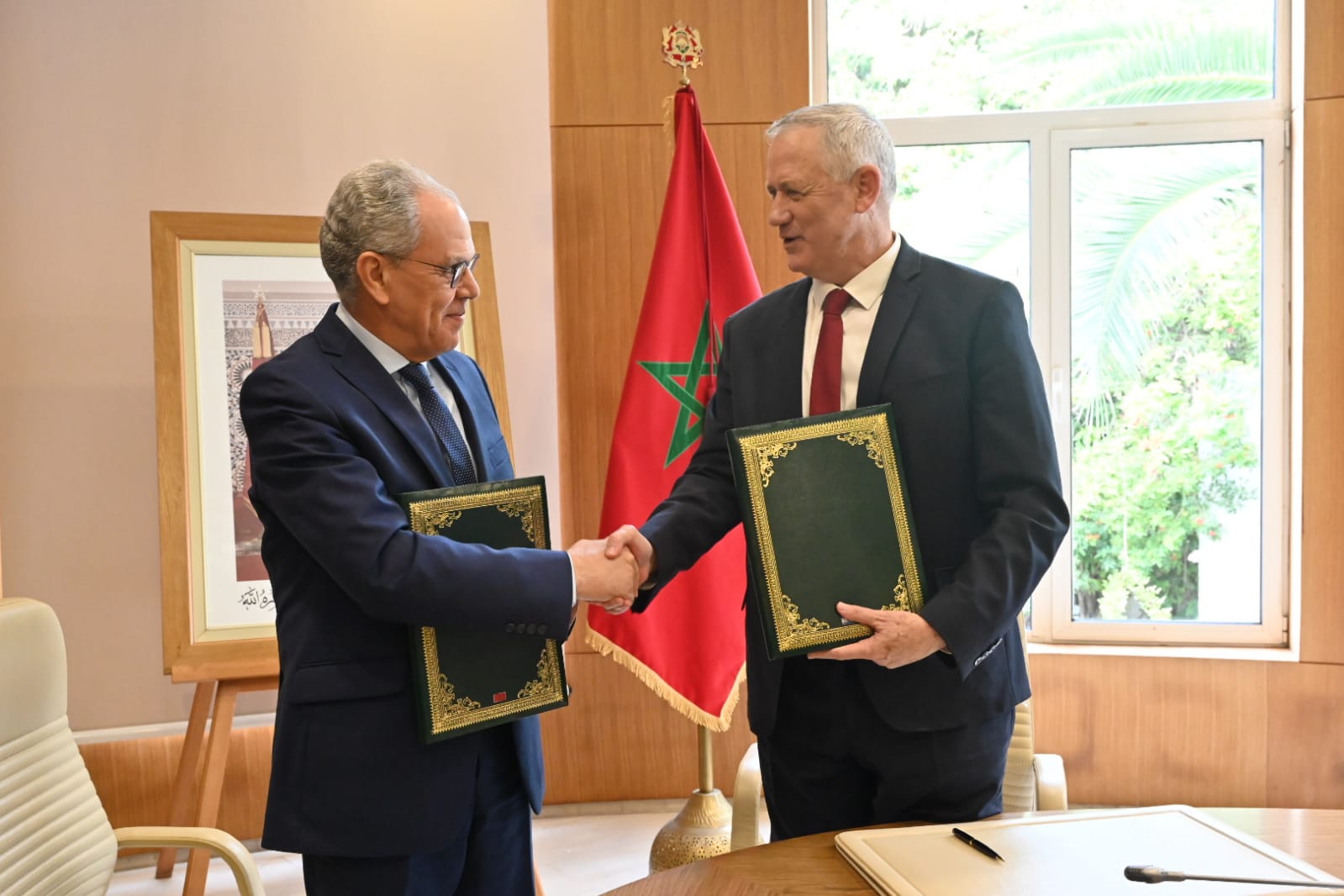 Israeli Defense Minister Benny Gantz shakes hands with his Moroccan counterpart Abdellatif Loudiyi, after signing a memorandum of understanding in Rabat. (The Israeli Defense Ministry/November 24, 2020)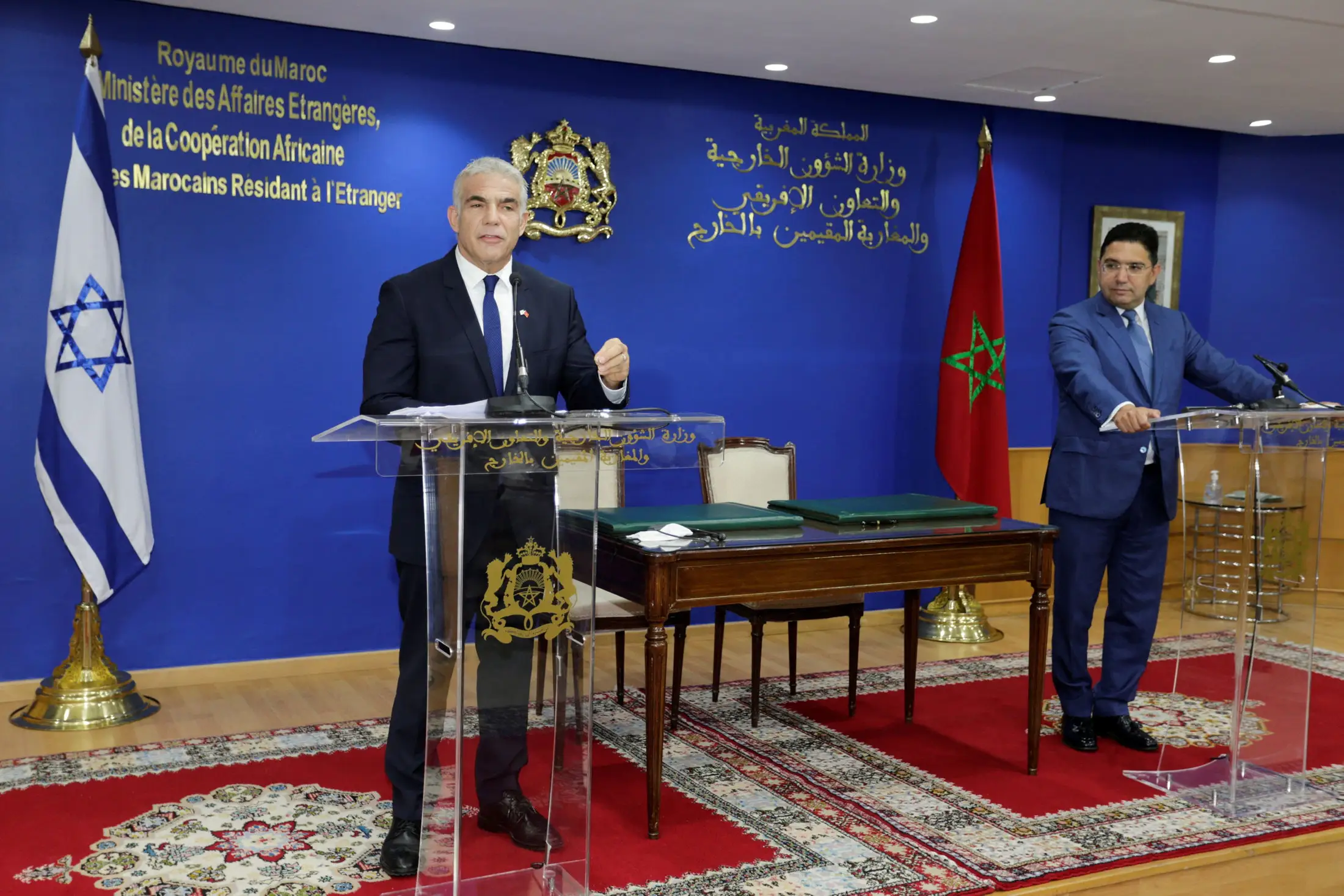 Israeli Foreign Minister Yair Lapid, left, at a news conference with Moroccan Foreign Minister Nasser Bourita in Rabat. (Youssef Boudlal/Reuters/August, 11, 2021)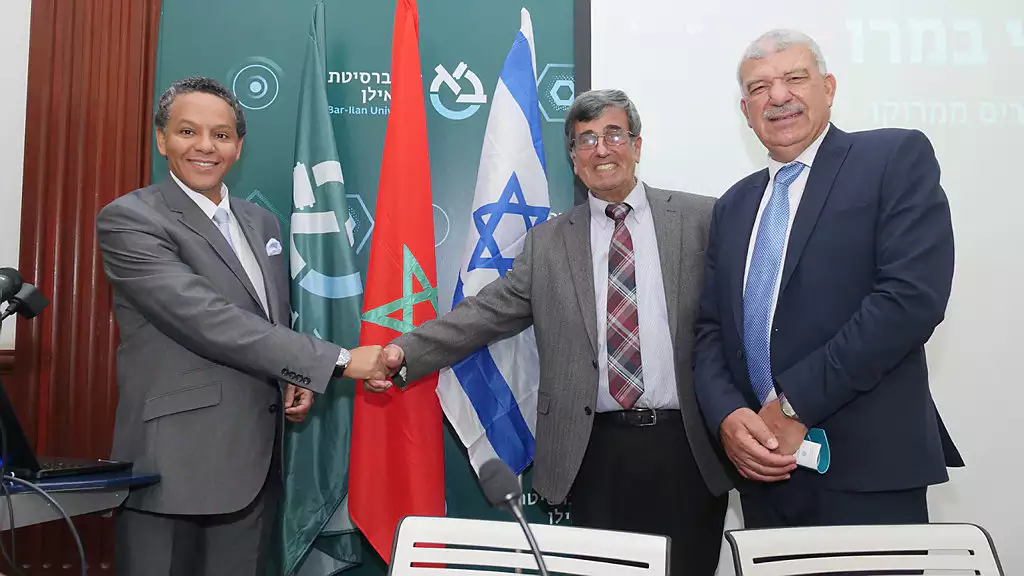 Israeli, Moroccan academics sign research cooperation agreement. (Peleg Levy/Israel Hayom/November, 14, 2021)
Sudan
On October 23rd 2020 Sudan announced it too would be normalizing relations with Israel conditional that: it was removed from the U.S. State Sponsored of Terrorism list, economic sanctions were lifted and debt was forgiven. Sudan agreed to pay U.S. victims of terrorism $332 million dollars while denying any wrongdoing. Congress approved the changes in U.S. law in the Omnibus spending bill in December 2020 and Sudan and Israel and on January 6th 2021 Sudan signed the Abraham Accords Declaration with Treasury Secretary Mnuchin in attendance in Khartoum.
Despite an official visit to Sudan by Israeli Intelligence Eli Cohen where a memorandum of understanding on security related issues was signed in late 2021, the path towards officially normalizing relations has been slowed down by the rising tensions between Sudan's civil and military leaders who govern through a fragile power-sharing agreement. Questions remain about the prospects of stability in the country and whether the prospects of formally establishing full diplomatic ties with Israel will be delayed.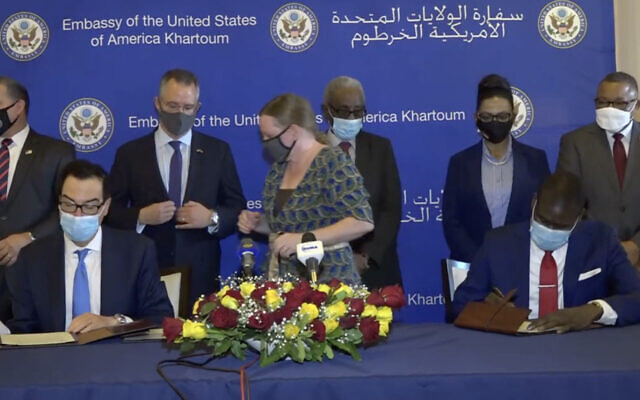 The signing of the Abraham Accords in Sudan,2021 (Screen capture-Facebook)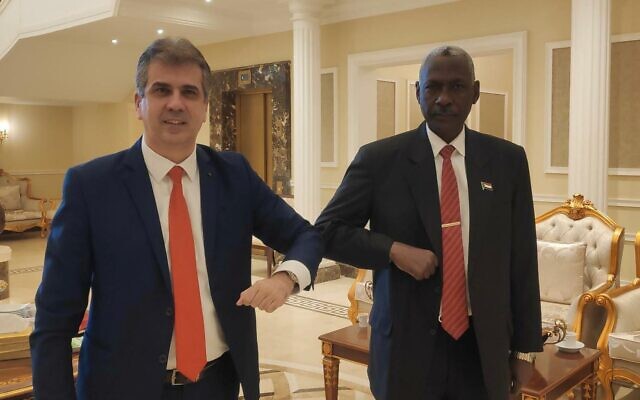 Israeli Intelligence Minister Eli Cohen meets with Sudanese Defense Minister Yassin Ibrahim in Khartoum. (Times of Israel/January 25, 2021)