Anti-Normalization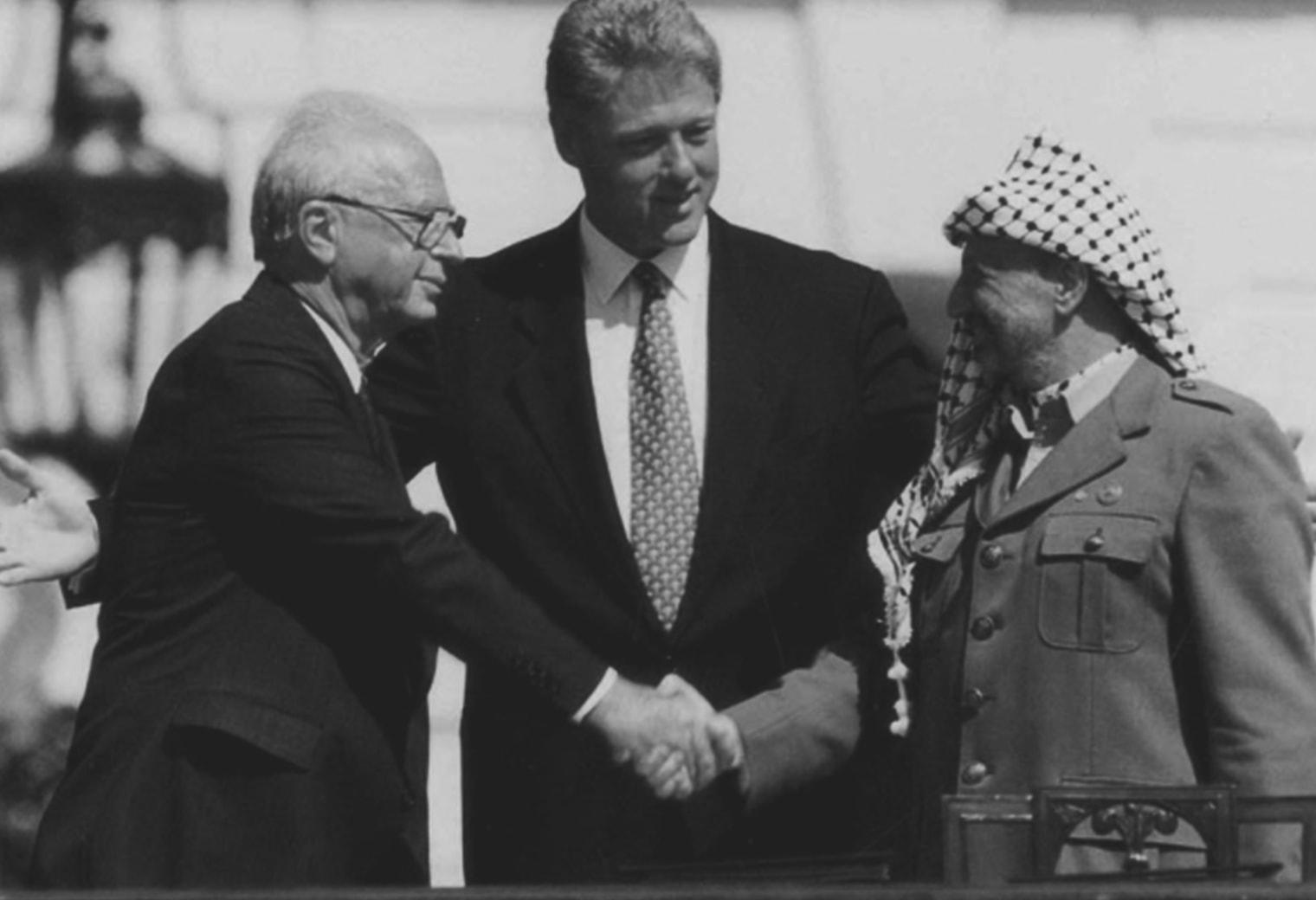 Anti-normalization is a hot-button issue within Palestinian society, though few Palestinians agree on what exactly it should mean. At its core, "anti-normalization" is a view that "normal" relations with Israel should be withheld until a negotiated final status agreement is achieved. The idea penetrates deeply in Palestinian and Arab circles, where even cultural and civil society ties, not to mention economic and political relations, are deemed by some to be inappropriate and are seen as undermining the Palestinian cause.
Still, Palestinian and Arab views are divided and many reject anti-normalization, whether for reasons of principle or because in practice it has generally strengthened those forces in Israeli society less inclined to peacemaking. Long isolated, besieged and marginalized in the Middle East, Israelis are particularly sensitive to attempts to boycott or withhold recognition.
BACKGROUND
At the height of the Arab-Israeli conflict, in the 1960s and 1970s, Arab states were generally unified in their opposition to Israel's existence and most maintained stringent prohibitions against trade and political contacts, not to mention cultural and civil society contacts. Egypt's 1979 peace treaty with Israel was the first major crack in this wall of opposition to "normal" relations with Israel.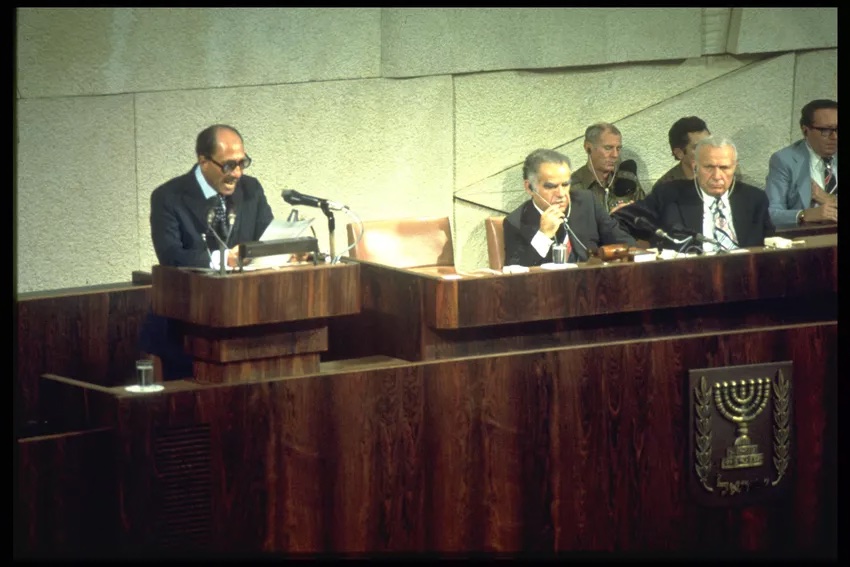 The Palestinian writer Walid Salem defines "normalization" (tatbi'a in Arabic) as "the process of building open and reciprocal relations with Israel in all fields, including the political, economic, social, cultural, educational, legal, and security fields."1 See Walid Salem, "The Anti-Normalization Discourse in the Context of Israeli-Palestinian peace-building," Palestine-Israel Journal, 2005, https://pij.org/articles/334/the-antinormalization-discourse-in-the-context-of- israelipalestinian-peacebuilding. Some Palestinians prefer not to use the term tatbi'a, because in the current context "normal" relations are impossible to conduct. Others see the process of normalization as positive. For "normalizers" engaging in reciprocal relations is the beginning of a process to transform ties with Israel and root it more naturally in the Arab region, rather than Israel continuing to look westward and seeking to be part of Europe. Opponents argue that normalization is a state of affairs that should only be reserved for countries that have not attacked and occupied Arab lands.
The first traces of the modern term appeared in the mid-1980's. Palestinian lawyer Jonathan Kuttab and Israeli political scientist Dr. Edy Kaufman were engaged in a public debate about the nature of dialogue between Israelis and Palestinians. In "The Pitfalls of Dialogue" Kuttab argued that since most encounters between Israelis and Palestinians ignored the central issues that impact daily lives (such as Israeli military presence in the Palestinian Territories, freedom of movement, and access to natural resources), they should therefore be avoided. Kaufman argued instead for a style of dialogue "conducted on a sustained basis over time, which could be controlled in an equitable manner. And that it was a central goal of any dialogue to create trust between the parties in order to allow even major hurdles along the way to be overcome."2 See Hans Maria Heÿn and Bastian Schroeder, "An End to the Status Quo? A contribution to the normalization and anti-normalisation discourse in Palestinian Society," KAS International Reports, 2015. https://www.kas.de/c/document_library/get_file?uuid=c3ca1e2a-b19b-959c-f06e-9d579895191d&groupId=252038
The term (and the debate) has evolved significantly over time. In the 1980's, those who supported anti-normalization were concerned "about the occupation becoming a secondary issue in the Israeli-Palestinian conflict."3 3 See Aziz Abu Sarah, "What is Normal about Normalization," 972 Magazine, 2020 https://www.972mag.com/what-is-normal-about-normalization/ Egypt's peace treaty with Israel, and the stillborn Palestinian "autonomy" talks that came with it, reinforced the idea of anti- normalization for some Arabs who felt that the peace process Anwar Sadat initiated was undermining the Palestinian cause.
By the late 1980s, more Palestinian leaders began to support the idea of a negotiated solution with Israel, culminating in the initiation of a U.S.-Palestinian dialogue at the end of the Reagan administration. Then, with the breakthrough at Madrid in 1991, when the first direct negotiations began between Israel and all of its Arab neighbors, the regional politics around anti-normalization waned. The Oslo process' emphasis on mutual recognition, economic cooperation and joint security efforts further weakened anti- normalization.
The decades-long Arab League economic and political boycott of Israel also began to unravel, and for the first time widespread contacts began to take place, seemingly with the blessing of Palestinian leaders.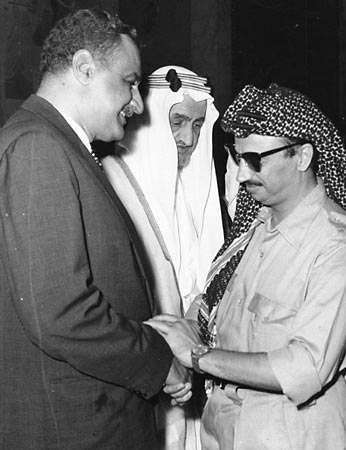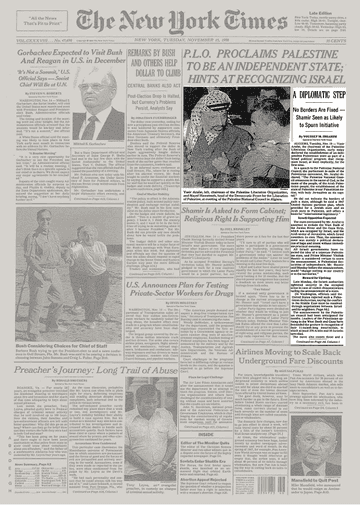 But Oslo also galvanized opponents to peacemaking and it was not long before many Palestinians judged the peace process a failure for not delivering independence and sovereignty. Not only did a Palestinian state based on the 1967 lines fail to materialize, but Israeli settlements grew steadily throughout the years of peacemaking and following episodes of violence Israeli military control intensified. The failure of peacemaking revived the campaign for anti-normalization.
There is much in common between the BDS and anti-normalization movements. "The anti-normalization movement has called for an end to all interactions between Israelis and Palestinians that do not subscribe to three key tenets: ending the occupation; equal rights for Israelis and Palestinians; and a full right of return for Palestinian refugees," writes Joel Braunold and Huda Abuarquob, "these three tenets are shared with the BDS movement, and, as such, the two movements are joined at the hip." "Yet the effects on the ground of the anti-normalization movement are far more serious."4 See Braunold and Abuarquob, in Haaretz, 2015, "A bigger threat than BDS: anti-normalization," https://www.haaretz.com/jewish/.premium-worse-than-bds-anti-normalization-1.5374940

Combined with the unraveling of the peace process, punctuated by the intense violence of the Second Intifada (2000-2004), the anti-normalization movement in recent years has decimated many dialogue and peacebuilding initiatives between Israelis and Palestinians.
IMPACT OF POLITICAL DIVERSITY AMONG PALESTINIANS
Given the high degree of political diversity among Palestinians, from secularists to Islamists, from Marxists to pan-Arabists, and from liberals to conservatives, it is not surprising that there are a variety of views on anti-normalization.
The most extreme positions come from groups like the Palestinian Campaign for the Academic and Cultural Boycott of Israel (PACBI) or better known as the BDS movement, established in 2004. 5 See https://bdsmovement.net/pacbi BDS advocates support a full economic, cultural, and academic boycott of Israel. Although this movement argues that it represents "the three major components of the Palestinian people: the refugees in exile, Palestinians under occupation in the West Bank and Gaza Strip, and the discriminated Palestinian citizens of the Israeli state," the dominant political parties, like Fatah, do not officially support BDS. In fact, since 2012, the PLO has maintained officially sanctioned engagement with Israeli society through a political committee headed by a senior Fatah figure. The committee communicates official PLO positions to all elements of Israeli society, officially authorizing interactions that happen through it and in line with the political vision of President Abbas. The committee itself faces opposition from the anti- normalization camp.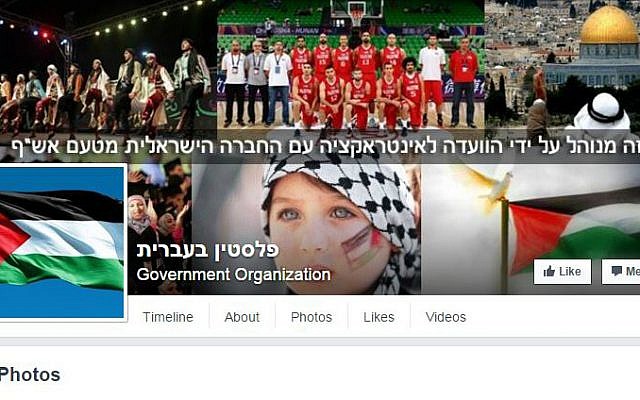 ANTI-NORMALIZATION IN the ARAB WORLD
Within the broader Arab context, anti-normalization has gone through dramatic changes. In 1948, Arab states rejected Israel, many going to war to prevent the establishment of the state. For decades, contact was rare and Israel was deeply isolated. Egypt's 1979 peace treaty with Israel was the first major challenge to this consensus.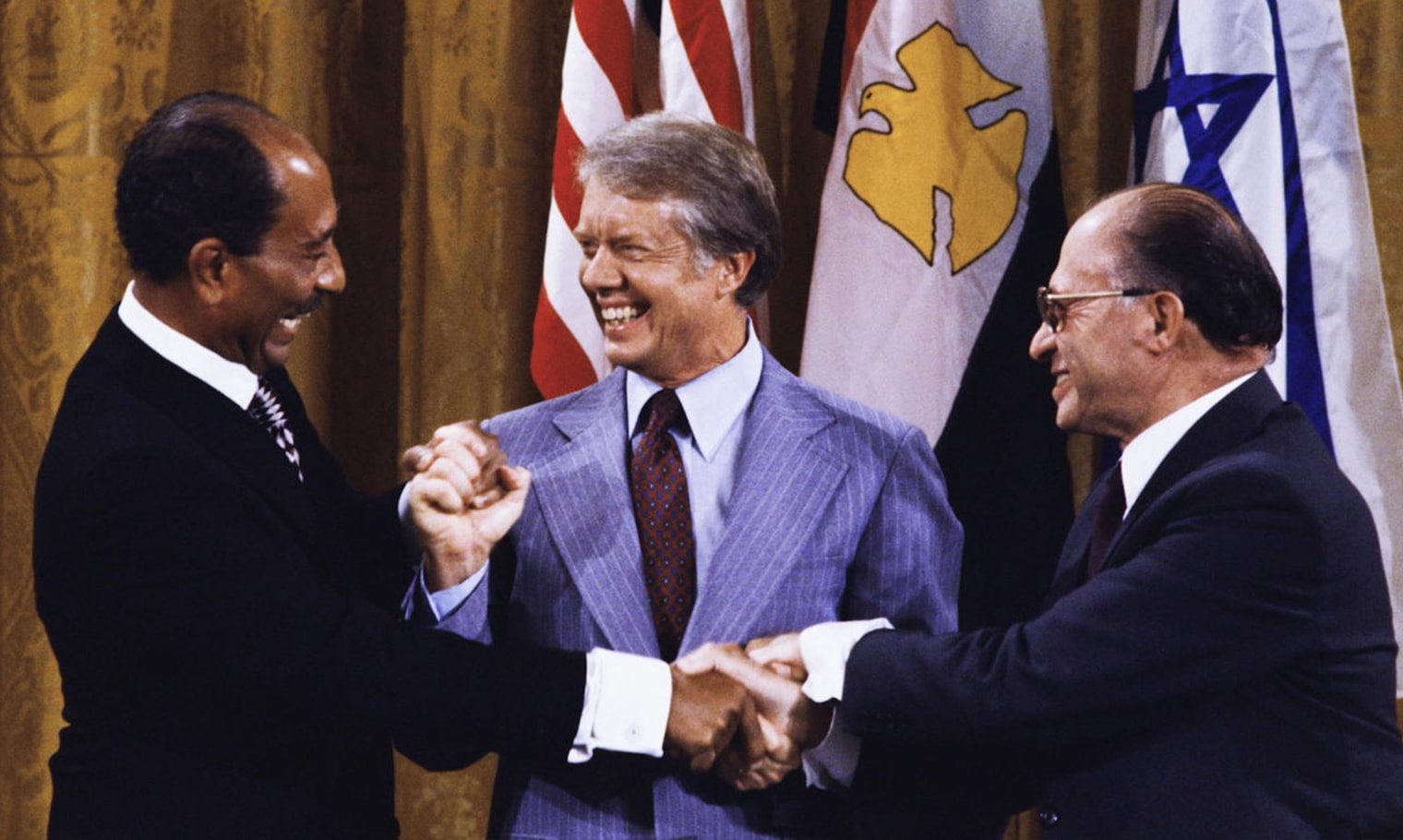 Sadat, Carter, Begin signing ceremony (David Hume Kennerly/Getty Images, 1979)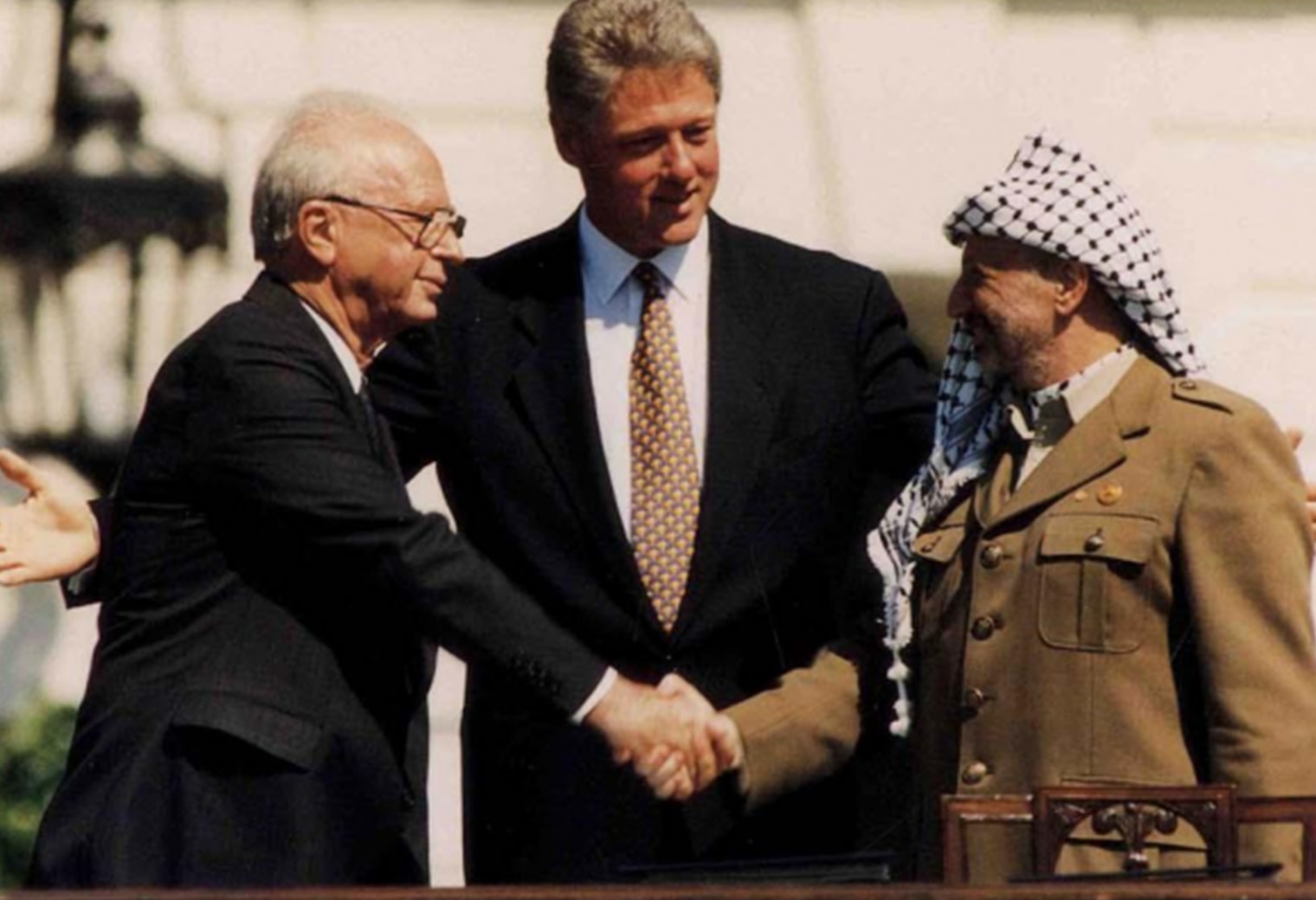 Rabin, Clinton, Arafat signing ceremony (David Are/AFP/Getty Images, 1993)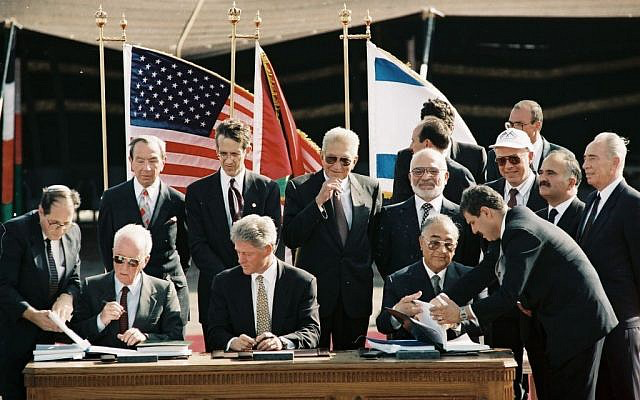 Rabin, Clinton, Hussain signing ceremony (Zoom 77, 1994)
After the signing of the Oslo accords, Jordan signed its own peace treaty with Israel, Syria conducted intense though ultimately failed talks over a return of the Golan Heights, and Israel established ties with states like Morocco, Qatar and Oman. In 2002, the Arab League, led by Saudi Arabia, endorsed the Arab Peace Initiative which called for a negotiated two-state-solution consistent with the land for peace principle and a total end to the conflict in exchange for normal relations with Israel including full recognition.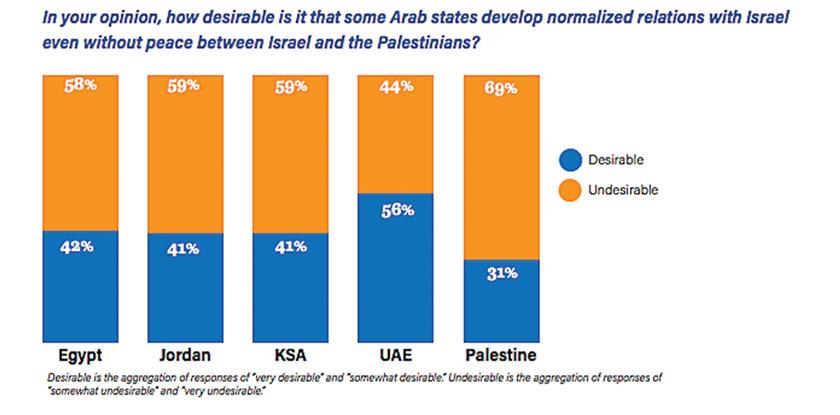 More recently, many Arab states have allowed thinkers, intellectuals, religious leaders, and other stakeholders to participate in dialogues that included Israeli peers. The Arab Council for Regional Integration, for example, decried efforts to boycott and isolate Israel arguing that such efforts "caused more harm than good". In an op-ed published in the Wall Street Journal, Arab Journalist Mostafa El-Dessouki and lawyer Eglal Gheita argued that "boycotting Israel and its people has only strengthened both, while doing great harm to Arab countries, and not least to the Palestinians".6 See El-Dessouki and Gheita, "Arabs Against Boycotting Israel," Wall Street Journal, November 20, 2019, https://www.wsj.com/articles/arabs-against-boycotting-israel-11574293923, see also "Arab thinkers call to abandon boycotts and engage with Israel," New York Times, November 20, 2019, https://www.nytimes.com/2019/11/20/us/israel-arab-dialog.html
Nonetheless, there is a widespread movement in Arab states like Jordan and Egypt by professional unions and some cultural figures to boycott Israelis, proving that anti- normalization still has a broad base of support outside the Palestinian Territories. Given the closed nature and lack of free expression in these and other Arab societies, experts contend that some degree of this anti-normalization sentiment is indirect opposition to Arab governments.